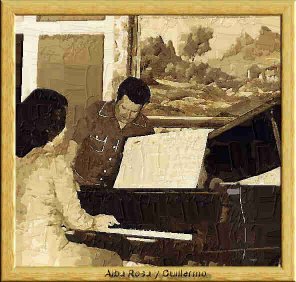 piano music
Alba Rosa Castro - Pianist - mp3
José Raúl Ramirez - Pianist - mp3
Ludvik Stonawski - Pianist - mp3
The story as told by Guillermo Venegas is this: One day, when Guillermo was about 10 years old, he was walking past a house when he heard a piano being played. He stopped and listened and marvelled at the beauty of the music. He went inside the house and inquired.... the pianist was playing Chopin. Right then and there he decided he was going to be a composer. A dream of his was to compose for the piano. This is why he owned several piano throughout his life, pianos which he never mastered as he did the guitar.... an unfulfilled dream. His dream of hearing his music on the piano was fulfilled when first Alba Rosa Castro (photo here) and then Ludvik Stonawski recorded a total of 24 works and then Jose Raul Ramirez recorded some 20 of his danzas. Some of the works recorded by Alba Rosa can be heard in MP3 files below.
About the Sheet Music:
To get sheet music fill the request form and send. Sheet music will be in GIF or JPG format PC files designed to be printed on 8.5 x 11 inch paper. You may view and print them using your browser. For best results print them using a program with a fit-to-page option. One good freeware and wonderful graphics program is XnView. You may download this program at program's homepage. The sheet music may be used and copied for personal, teaching, scholar and research purposes only. To get a free public performance license, please contact GVL Inc.



Free - Download sheet music for piano (PDF)
Licence
Licence
Performance: Free. Please contact GVL Inc. Certain restrictions apply.
Recording: Please contact GVL Inc.













































.